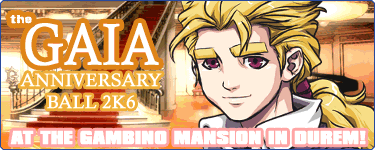 The Third Gaian Anniversary Ball took place on February 18 2006. Gambino's Mansion was rebuilt as a replica of the old one and opened up for the Anniversary Festivities. This event, however, was hosted by Gino Gambino only.
Dear guests,
I would like to welcome you to the Gambino Mansion on behalf of my late father, Johnny K. Gambino.
While my father was alive, he accomplished many a great thing. He was a great man who was larger than life. He was a connoiseur of all the finer things in life. He lived like no other before him. He was, in fact, the most powerful man in all of Gaia.
Today, I would like for all of us to have a moment of silence to pay respects to the memory of my father. Without him, none of this would be possible.
Thank you all for joining me this year in celebration of all that is good -- GAIA, the mother earth, the annex of interaction and friendship, may your spirit continue to grow and bring joy to every soul which inhabits you.
HIP HIP HOORAY!!

There were four items given out to those who attended the Anniversary. The four items were given out in this order:
G Shades Pink
G Shades Yellow
G Shades Blue
G Buckle
Gaians are reporting glitches with the avatars and also the NPCs themselves, most notably Gino Gambino, Old Man Logan, and Edmund.
Also, some users experienced glitches with their own avatars, including incorrect avatars, avatars appearing in the wrong size or only partially displaying, and other glitches.

See Gallery of Gaia Online Glitches
External Sources
Edit
Gaia Plot: What's Been Going On - Thread Creator, Calmer