The First Gaian Anniversay Ball took place on February 18 2004. This is the first event that was hosted in a dedicated forum. The Gambino Mansion was opened up for the Anniversary Festivities. This event introduced both Johnny K. Gambino (proclaimed the most powerful man on Gaia) and his son, Gino Gambino.
This event is not to be confused with The First Gaian Annual Ball, hosted by Misao.
Johnny K. Gambino
and
Gino

Gambino hosted the celebration of the site's first anniversary. This is the first time that the public was able to get a first-look at the inside of the mansion. Upon arrival, users recieved party favors such as a Hat and a Item:Noise Maka.
Several shopkeepers from around Gaia were present as well, including Ian & Rufus, Ruby, and Sasha in avatar form. These shopkeeepers attended the party, handing out Gaia T-Shirts. Gino Gambino made a few appearances, crying out justice against his father, due to the abuse and attitude given towards him.
Guests that ran into Johnny Gambino while at the ball were given gold in incriments of 1,000 pieces each time.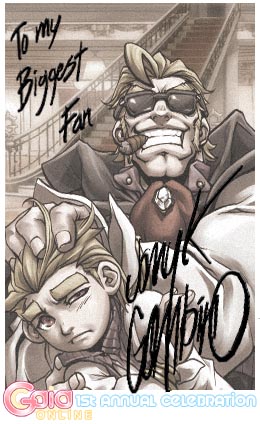 A few days later after the event, a "Thanks For Coming" picture, signed by Johnny Gambino was given to users who attended the ball.
External Sources
Edit
Gaia Plot: What's Been Going On - Thread Creator, Calmer