The Fox and Hound is a set released on August 27, 2010
Fox and Hound Bundle

Description: Includes Equestri, Flossy Fox, Bullet the Puppy, and the exclusive Hunter's Companion.
Price: 999 Gaia Cash
Store: La Victoire (formerly)
Gender: Any
Date first appeared on Gaia: August 2010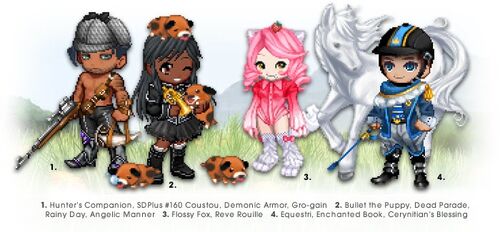 Equestri - Your parents couldn't afford the pony you've always wanted, but they got you these nifty riding clothes instead......now all you need to do is add some imagination! (499 Gaia Cash)
Flossy Fox - These cunning animals wander around amusement parks waiting for the right time to snatch up some delicious sweet treats~ (499 Gaia Cash)
Bullet the Puppy - Bullet is training very hard to be a good hunting dog....too bad he is easily distracted and likes long naps. (199 Gaia Cash)
External links
Edit
"
Aha! Mintaka and I have a wonderful new selection of items available today, hearkening back to the noble aristocratic tradition of fox hunting-- of course, Gaians don't actually hunt foxes anymore, they just ride around on horses with their dogs, find some adorable foxes, and then everyone sits down and has a picnic.

Equestri - Includes all the pieces you need to look like an upper-class equestrian. Includes a jacket, pants, riding boots and a multi-functional riding crop.

Flossy Fox - You'll look certifiably foxy with these cute costume accessories: legwarmers, a lovely top, strawberry curls and a sugar capelet.

Bullet the Puppy - Despite his intense name, this little wiggling hound pup is all naps and cuddles. He still hasn't figured out how to keep his tongue in his mouth.

Fox and Hound Bundle - Includes all the items above, plus the exclusive Hunter's Companion. What a deal!

These items will only be available until Friday, September 3rd, so get them while you can! To grab them, just visit us at the Gaia Cash Shop. We've got a huge, ever-changing selection of wonderful items, so please stop in for a look. See you next time!

"
 
Ad blocker interference detected!
Wikia is a free-to-use site that makes money from advertising. We have a modified experience for viewers using ad blockers

Wikia is not accessible if you've made further modifications. Remove the custom ad blocker rule(s) and the page will load as expected.