The Flora Fauna is a set released on April 24, 2012, it is purchasable only with Gaia Cash or from other users via trades or the marketplace.
Flora Fauna Bundle

Description: Includes Nymph Adora, Fay Cervidae, Enchanted Meadows, and the exclusive Rosa Decora.
Price: 999 Gaia Cash
Store: La Victoire
Gender: Any
Date first appeared on Gaia:
April
2012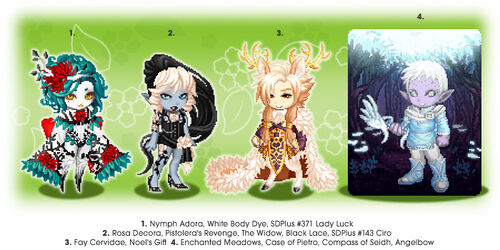 Nymph Adora - The charming queen of the dryads beckons you to explore her mystical grove... (399 Gaia Cash)
Fay Cervidae - The amiable prince of deer welcomes you to enjoy the verdure of his kingdom... (499 Gaia Cash)
Enchanted Meadows - What secrets will you uncover in this halcyon environment? (299 Gaia Cash)
External links
Edit
"
Good day! We're spending this gorgeous spring day lining the shelves of the La Victoire with a gorgeous new nature-inspired update! Get all the new items at once by buying the Flora Fauna Bundle, and you'll also receive an exclusive item that you can't get anywhere else!

Nymph Adora - Mesmerize effortlessly like the queen of dryads! Clad yourself in intricate, floral designs including a headdress, bodice, curly tendrils, extravagant bolero, oversized bow, and don't forget to show off those arboraceous legs!

Fay Cervidae - Appreciate the fauna with the prince of deer! He gifts you with the garb and magic of his kingdom which includes gilded antlers, an embroidered belt and top, a luxurious cape, royally accented coiffure, and graceful legs.

Enchanted Meadows - Traverse a land of neverending dusk! Observe a beautiful full moon in Twilight Forest, find peace in the Crystal Grove, and taste the fruits of the glowing land-- perhaps you will even meet a friend.

Get all three of the above items at once by buying the Flora Fauna Bundle, and you'll also receive the exclusive Rosa Decora. Edgy and elegant, cover your body with floral ink and accent your hair and apparel with cream-colored bangs and a silky sash.

The new season's off to a fantastic start, fashion wise! Come by the Cash Shop and have a look, we're sure you'll be impressed.

"
 
Ad blocker interference detected!
Wikia is a free-to-use site that makes money from advertising. We have a modified experience for viewers using ad blockers

Wikia is not accessible if you've made further modifications. Remove the custom ad blocker rule(s) and the page will load as expected.