EIR:2k8-Jan-31: Fausto's, Hermes' & Biancamella
Talk

0
2,212pages on
this wiki
Evolving Item Report: Fausto's, Hermes' & Biancamella Posted: Thu Jan 31, 2008 4:04 pm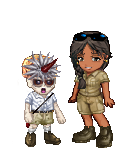 The Report
Edit
Dr. Singh: Good day, Gaian friends, and welcome to the Evolving Item Report! I'm Dr. Singh, Gaia's top biologist, zoologist, paleontologist and, on weekends, field hockey midfielder. I'm sure you all know my tragic little mutant co-host, Timmy. How'ya doing, friend?
Timmy: Doc, I've never felt better in my life! Sorry I bit ya last week, but the swelling in my braincase was exertin' pressure on my amygdalae, causing uncontrollable aggression and loss of... YEEP! ...speech functions!
Dr. Singh: Wonderful! So, now that your rhino horn has emerged, your violent thoughts should be calming down!
Timmy: Oh, golly, not at all! I'm angrier and more violent than ever, and I'm lovin' every minute of it. YEEP!
Dr. Singh: That's... great news, Timmy. Let's move on to business. This week, we've got three items moving into their next stages. The Biancamella has evolved into a gorgeous new piece of clothing, and Hermes' Moon is moving into a strange new phase.
Timmy: Hurry up, Doc, I feel like bitin' something.
Dr. Singh: The biggest news this week is that the first generation of Fausto's Bottle is growing ever closer to the end of its evolution cycle, and this week's spectacular transition must be seen to be believed. Even I didn't anticipate this!
Timmy: It's... it's glorious! If you wanna see this new pose for yourself, just visit the My Avatar screen, remove the item from your avatar and then reequip it.
Dr. Singh: That's all for this week, folks! If you'd like to pick up an evolving item for yourself, just stop by the Gaia Cash Shop (move your mouse over the "Market" menu to find it). I'd better get Timmy out of here before he gets all cranky. Aren't you ready for a nap, little guy? You've been pacing in circles and gnashing your teeth for almost 72 hours straight now.
Timmy: Ha! Not on your life, Doc! I never get tired anymore, ever! Better sleep with one eye open, too, cause I'm feelin'... YEEP! ...like I've lost the ability to tell right from wrong, and I no longer see people as anything other than big chunky blood milkshakes! Isn't that funny?
Dr. Singh: Eh... heh heh...