EIR:2k12-Aug-17: Modus Operandi and All-Star Cheer
Talk

0
2,208pages on
this wiki
Evolving Item Report: Modus Operandi and All-Star Cheer Posted: Fri Aug 17, 2012 4:52 pm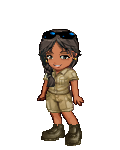 The Report
Edit
Calling all science fans! We've been having our semi-annual ScienceJam over here at the EIHQ-- that's when we all spend two weeks bunking up nice and cozy in the lab, working day and night on new scientific insights without the usual constraints of showers or food! Check out our exciting findings: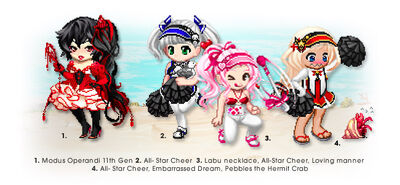 With school starting soon, it's time for the All-Star Cheer girls to head to the beach for some last-minute sun. There's just one problem: their favorite beach spot is infested with hermit crabs! Luckily Sapphire has a plan: by waving their "magical" batons and squawking wildly, they summon a flock of hungry seagulls! The surly birds make an afternoon snack of the crabs, and Hornet can finally get that tan she's been after.

This week, another grisly tale from Modus Operandi, courtesy of artist bluefeathers_onDA: Snow White was a beautiful young woman, but vain to the point of obsession. She spent hours in front of her mirror, rouging her cheeks and braiding her silky hair, determined to be the fairest in all the land. But there was another woman, more beautiful and more beloved - the lovely young queen, who enchanted not only her new royal husband, but every heart in the country, with her long golden hair and kind smile. Snow White never ceased comparing herself to the queen, criticizing her every imperfection, indulging in the latest skin rejuvenation techniques, and cinching her waist tight to achieve that perfect hourglass figure. Inevitably, she would find some fault in her appearance - a pimple or a chipped nail - and turn desperately to her current beau for validation.
"Aren't I the fairest in the land?! Aren't I more beautiful than that simpering little queen?!" she would cry. The poor man would try to calm her hysteria, but every compliment rang hollow in Snow White's ears - they were all lies! Enraged, she would break her mirror and slash the man's throat with the cold edge of a shard of glass.
Still at large, Snow White has at least seven known victims, and authorities are concerned for the queen's safety...

Yeesh! That gruesome Snow White tale is giving me the fantods something fierce. How am I going to sleep tonight? Better tell my lab assistants to bunk down in the soundproof test chamber, because my chronic night terrors are gonna have me full-throat screaming till the sun comes up. Anyway, be sure to visit our weekly EI poll to let us know what you like best this week. Until next time, friends!