EIR:2k12-Aug-10: All-Star Cheer and Bunnihilation
Talk

0
2,208pages on
this wiki
Evolving Item Report: All-Star Cheer and Bunnihilation! Posted: Fri Aug 10, 2012 6:19 pm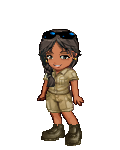 The Report
Edit
Hey there, EI fans! Have you ever "shotgunned" a can before? Supposedly it's a maneuver typically done with cold drinks, but I've been shotgunning cans of fruit cocktail all morning. It's a more efficient way to take in some essential vitamins! On top of that, we've got a couple new EI developments this week to share. Have a look!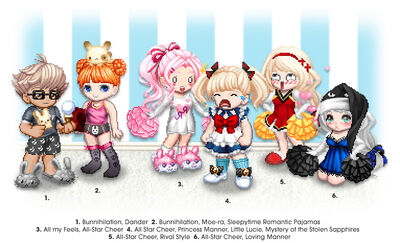 All-Star Cheer - This hyper-energetic cheer squad loves sleepovers-- it's the 39th one this month! The girls never tire from all the makeovers, pillow fights, truth-or-dares, gossiping about cute guys at school and those fluffy bunnies.
While doing each other's hair, Hornet's brother walks into the room asking where the remote went. Seeing the girls in makeover mode and realizing his mistake, he tried to leave, but was already too late. "Hello brother, better not fuss! Let's play with your hair and dress you up!" The girls sit him down and perform their brand of torture. Unfortunately for him, "Crisis is not averted..."

Bunnihilation - You've started loving bunnies so much that you're even wearing them all day long. This conversation is becoming too intimate. You need help. I'm worried about you.
They look fantastic! Head on over to the weekly EI poll and express what you're feeling inside. Speaking of that, I think I feel a tiny cube of peach bouncing around in my sinus cavity. It stings and I can smell it! Oh, I need to go! Until next time, everyone!