EIR:2k12-Aug-03: Modus Operandi and All-Star Cheer!
Talk

0
2,210pages on
this wiki
Evolving Item Report: Modus Operandi and All-Star Cheer! Posted: Fri Aug 03, 2012 2:26 pm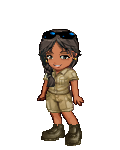 The Report
Edit
Good day, EI fans! We're really excited around here today for three reasons-- first, it's Corn Dog Day in the cafeteria and yours truly is stuffed full of anywhere from 8 to 12 tasty, golden-brown corn dogs. I actually lost count around my fifth one! The other two reasons have do do with an awesome new development in All-Star Cheer, and a brilliant evolution of Modus Operandi by artist reapersun along with an illustration of this week's case file at the bottom of this announcement. Have a look!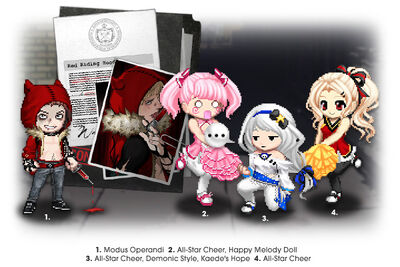 All-Star Cheer - The gang is looking fantastic and hitting the mall together for a day of people-watching, food-courting, and a little light shopping. They pass a trendy clothing store when Sapphire notices something: "OMG! That dude is totally not matching his shirt with his eyes!" The three look at each other... "Looks like a job for the All-Star Cheer Squad!"
The man, examining a strange striped shirt, places it back on the rack and turns around, only to be startled by the three girls standing directly behind him. "Hey you, that's not rad! That choice of clothes is just all bad!"
Momentarily confused and somewhat disgusted, he walks through the group of girls and toward the exit, purchasing nothing. The girls cheer, "Another crisis averted!"

Modus Operandi - Looking for a good time? If you happen down the right street at the right time of night, maybe you'll meet The Hood, a young gentleman with a reputation for getting what you need. What you won't know is that it's not just good times he carries in the bag on his hip... You won't have heard, but you might pretend that you have, of the "newest thing" he has to offer you-- the vial of Red Riding. "A free sample," he'll tell you, but you won't know to refuse. He'll murder you, with a roguish smile, and you will let him. When he compliments your eyes, you'll know you're his type. When he compliments your hands, you'll try to run for your life. When he compliments your mouth... he'll miss you for a moment. But he quickly forgets.
Back in the precinct, Officer Bricks has become fed up and impatient with a brooding Detective Wolfe. "Shouldn't we go out there and keep investigating? Or maybe looking for Officer Straws and Sticks? They may have found something?" he called in Wolfe's general direction.
Finally frustrated, Detective Wolfe jumped up and exclaimed, "That's it! Officer Bricks, come with me. I want to show you something," and bolts out of the precinct. Bricks snatches his coat and rushes after Wolfe, trying to keep up on his shorter legs. "Where are we going?" Detective Wolfe stops and lets Officer Bricks catch up, "I don't want to spoil the surprise. Follow me to the woods. There is a secluded spot up ahead where no one will bother us."

Ah, whew! I'm totally winded from the excitement, and not to mention the enormous amount of hot dogs and fried corn batter. I think I need to go lay down, but first it would be a good idea to remind you that there's a weekly EI poll where you can vote on your favorites! Until next time, friends!