The Demon Hunter is a set released on August 29, 2011
Demon Hunter Bundle

Description: Includes Triste's Rapture, Nightwalker's Reprisal, Peginni the Penguin and the exclusive Demon Vassal.
Price: 999 Gaia Cash
Store: La Victoire (formerly)
Gender: Any
Date first appeared on Gaia:
August
2011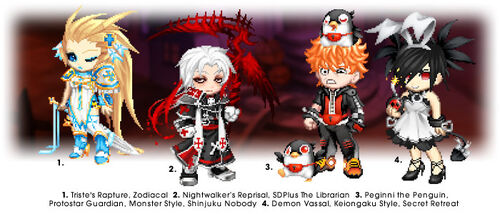 Demon's Vassal - Accessories every hot demon vassal needs! (exclusive item)
Triste's Rapture - Triste's Rapture are an elite force of demon hunters who truly live by their swords. Although they certainly have nothing but good intentions and make great allies, they can be rather audacious! (399 Gaia Cash)
Nightwalker's Reprisal - I wouldn't be caught dead in a dark alley facing the Nightwalker... or undead, for that matter. (499 Gaia Cash)
Peginni the Penguin - DOOD, I wonder if you throw Peginni's if they'll explode... (199 Gaia Cash)
External links
Edit
"
Much as Rigel and I love your Gaia, we know that there's much evil lurking in the dark underbelly of your world. Though we're beings of light, we harbor a healthy curiosity about the grim and morbid side; today, we bring you a suite of items inspired by our research into the world of professional demon hunting.

Triste's Rapture is a tribute to a legendary force of elite demon hunters. It includes a polished suit of blue and white armor, an enchanted sword and a flowing mane of blonde hair.

The Nightwalker prefers to hunt solo, dispatching demons with his own dark and sometimes cruel methods. Nightwalker's Reprisal includes his distinctive armor, platinum hair and horrifying scythe of blood.

Peginni the Penguin may be cute, but his demon blood runs red with mayhem. Inside his pouch hides an impressive and explosive arsenal.

The Demon Hunter Bundle includes all of the items above, plus the elusive quarry of the hunt: the Demon's Vassal, which includes a black collar, a demonic tail, silvery hair ribbons and some ominous black-feathered pigtails.

Think you've got what it takes to hunt down the unholy children of hades? You can purchase these dark relics for a limited time in the Gaia Cash Shop. See you there!

"
 
Ad blocker interference detected!
Wikia is a free-to-use site that makes money from advertising. We have a modified experience for viewers using ad blockers

Wikia is not accessible if you've made further modifications. Remove the custom ad blocker rule(s) and the page will load as expected.