The Collectibles Museum was released 2007 April 30. It contains every past Monthly Collectible available for Gaians to try on and preview them before buying. Of course, the items are just for looking and cannot be taken away. The museum is incredibly useful for viewing an item's available options and for referencing which items are contained in which Monthly Collectible Letter.
Upon loading the page the avatar is standing on a pedestal positioned to the far left. Above the avatar is a preview box which can be clicked to try on the items. The pedestal is surround by a bust of Johnny K. Gambino and a Ming vase. To the right of the pedestal is a large fame that displays the artwork for the current collectibles, this fame can be clicked for a larger viewing of the artwork. And next to the museum setting is the archive listing for the collectibles which are done in descending order.
The museum setting is 'blocked' by a velvet rope.
Below the museum is the text: Current estimated value from the Marketplace: and *Items available only if owners choose to sell, not all past monthly collectibles will be able to be traded with other members. The numbers next to the letter and collectibles are prices transcluded from the most recent marketplace value.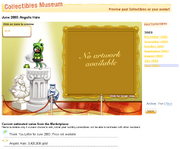 The Museum is not located on the World Map; its location is unknown.
Sometimes it is possible to see the items leaked a few minutes early by clicking the "Click for larger view" link to see the artwork for the items.
External links
Edit