The Christmas 2k9 (aka X-Mas 2k9) event started on December 16, 2009, but due to some issues it didn't fully begin until the 17th. It ended on December 23, 2009.
Dec 10: Gaia 9 Action News - December Issue[1]
GAIA'S XMAS EVENT PICKS UP just where Halloween left off: after their epic struggle for the souls of Gaians, demigods The Sentinel and The Overseer were stripped of their godhood by Jack, the maniacal king of Halloween. Now, they're doing their best to lead human lives, but things aren't going so well; without the street-smarts to get by, they're forced to live as vagrants. This Xmas, the former deities will hatch a scheme to gain their power back...
Event Beginning
Edit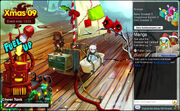 The event page opened to the public, beginning the gameplay. Although there was an official announcement, it was taken down due to issues with the event. Nevertheless, many Gaians found they they could Carol in Gaia Towns. A 17-page manga was released, "Fallen Gods", chronicling the actions of Overseer and Sentinel. Also, a forum opened up, called Xmas '09.
Users could carol to NPCs in Shops to earn Spirited clothing. In zOMG!, an X-Mas Tree appeared in Barton where users could click presents to receive a prize or get attacked, the same process as Christmas 2k8. (See also X-Mas 2008 on the zOMG wiki.)
Announcements
Edit
Overseer: Announcements
Edit
Hail, friends! I come before you in need of urgent help: Xmas is in danger! Santa has abandoned his post, leaving nobody to perform the customary tradition of delivering presents to the world's entire population of boys and girls—nobody but me, that is. To save the holidays from certain disaster, I'm building an airship to rival Santa's sleigh in present-delivering prowess.
Here's where you come in: building an airship is nowhere near as easy as it sounds. I need your help gathering resources and fuel. All you have to do is donate items and Gold to the Cheer Engine, which will convert them into power for the ship. In return for your generosity, you'll earn new holiday goodies and achievements.
It's all happening on the Xmas '09 page, so make haste! There's even a new manga that'll bring you up to speed on the story, including why Sentinel keeps following me around and insulting me.
Join the Fun
Don't forget the other great holiday activities happening all throughout Gaia. There's plenty of fun to be had caroling in Shops and Towns, ice skating, snowball fighting, and more!
Behold, Gaians!
For one thousand years I have been giving out gifts to worthy people. Once it was as easy as opening my mouth and conjuring a gift from the infinite depths of my stomach. Unfortunately, this method now causes me to throw up. It appears a side effect of being mortal is that I have to buy or make gifts from scratch.
It's clear that I need to relearn the ancient art of gifting. I turn to you and your hard-earned wisdom, Gaians: what is the absolute best gift you've ever received? And while you're thinking about it, what was the worst?
Oh, and do you guys think Sentinel would like a Cheery Cardinal? She's so hard to shop for.
Greetings, holiday revelers! Things are going very well with our cheer drive, and it's beginning to look as though Sentinel and I may actually pull off this whole "saving Xmas" thing—all thanks to your hard work and generous donations, of course.
As bright as things look now, it's strange to think that Sen and I were living on the streets like hobos just a few weeks ago. It was quite a humbling experience, and we saw firsthand the sort of hardship and struggles regular humans have to endure.
I've been reflecting on that time a lot lately. In fact, pardon me while I drift into a strange interlude...
---
Download the minigame now to guide Sentinel and Overseer through an evening of hardscrabble hobo troubles!

You'll need a PC to play it. Just unzip the file (you may need to use a program like Winzip or Winrar) and run the EXE program inside.

Remember: ONLY download this game from the official Gaia Xmas 2009 event page! Nowhere else

Play the Minigame

(Look for the download link in the lower rightish area of the page)
Thanks to your generous contributions, our cheer tank is full and the airship is ready to take to the skies! As promised, Sen and I will be delivering gifts to all the wonderful people who chipped in to make this Xmas happen.
Click the Giftbox to Get Your Gift
Click the golden gift at the bottom-left of the page to get your final item.

As for Sen and I... I'm not quite sure what we'll be up to next, but rest assured that you haven't seen the last of us. Who knows where this airship might take us...
Read the Final Xmas Manga
---
Dec 17: Announcement: zOMG! Christmas Update, December 17 - Open Now![6]
Salutations, pedestrians! Are those pitiable vagrants and their little gaffe of an "airship" dampening your holiday spirits? Well, rest assured, I'm confident their effort will be a spectacular failure and we won't hear from them ever again!
Meanwhile, please direct your attention to zOMG! The game will be unavailable on Dec 17th at 9AM for approximately two hours, after which begins the zOMG! Christmas event! A gorgeous tree and gifts will be available, with more and more presents as we near the holiday.
So you can thank me and my exquisite airship for saving Christmas this year! My glorious, golden, completely unrivaled airship... Have a magnificent holiday, everyone!
Dec 18: Holidays? Bah! Humbug![7]
If you're anything like me, you're too busy cruising around the skies in a magnificent airship to care about the holidays. Do you have any idea how hard it is to maintain one of these beauties? It's bad enough I've got crewmen asking for time off, but can you believe they expect me to give them holiday bonuses, too?
As a small businessman/airship captain, holidays are nothing but bad news. So I say down with the holidays! Down with ugly seasonal sweaters! Down with candy canes! Down with foolish do-gooders clogging up my skies to deliver presents!
Who's with me? Let's stand together against all this sickly cheer and needless goodwill!
Now if they wanted to create a day honoring yours truly, I think I could find time to give a speech or pose for a statue commemorating my unprecedented aerial dominance. Something like that just makes sense.
---
Dec 18: Announcement: Brennivin's Holiday Story Interactive - Everyone Makes Words[8]
Hailsa!
Long time ago I read good holiday times story about crazy tree man in woods who eats kids. Mostly I make fashions—Ah hah! The style so grand!--but now I try my hand at story. Make it better by working with Gaians! I write starting line, then you take turns writing engrossing lines. We each write small bit to make story happen—how sérstakur! Where it goes nobody fathoms!
I start now: "Uh oh! Do not think otter friend will survive whirlpool," said the cobbler, eyes now spraying tears like little volcano.
You write rest, thank you! May holidays contain many deposits of happiness and joy hidden within!
---
Ron Bruise: Announcements
Edit
Dec 21: Announcement: Holiday Hits with Ron Bruise[9]
Hey, hey! The Ron Man is here to share his holiday favorites. I'm all about sharin', so be sure to chime in with your personal favorites. Let's all just share like crazy. Woo! I'll start!
Favorite Holiday Movie: The Santa Factor

In this movie I played a mall Santa who stumbles on a formula for cold fusion (endless power) and become marked for assassination by an evil corporation bent on world domination. Eventually I win and when I finally show the formula to the president it's just a drawing of a heart, because all along the secret to endless energy was inside us (it is love). The critics didn't really get the message, but that's because it was kind of a science-meets-philosophy film.
Favorite Holiday Song: "Holiday Thunder"

This little ditty is my favorite cut from my holiday album. I wrote it after spending a really lonely Xmas alone while researching deep-sea diving for my disaster film Arctic Fury: Flames of Ice. It's kind of a bummer I was heavily medicated at the time, because it's really hard to understand what I'm singing about and I forgot to write the lyrics down. I think the sentiment is universal, though. It's just totally The Holidays.
Favorite Holiday Drink: Ron Bruise's Double Nog

This is just regular eggnog, but it's served in a really big cup. A definite favorite around the Bruise house.
So what are your favorite holiday things? I'm talkin' movies, songs, foods, shows, the works! Wooo!
The Rest of the event: Dialogue
Edit
Overseer & Sentinel Pt1
Edit
This took place on the X-Mas main page within text bubbles. Overseer and Sentinel are preparing the Airship.
pt1
Overseer: The Cheer Engine is in place and ready to receive fuel.
Sentinel: Great... You do realize you're still sitting in a bathtub, right?
Overseer: She's a fine hull, Sen. I can imagine no finer a vessel to carry me through the skies.
Sentinel: You never were much for imagination.
pt2
Overseer: Now, to enjoy the generous cheer of Gaians! As soon as they start donating, we'll be soaring in the clouds.
Sentinel: This I gotta see.
pt3
Overseer: I wish I had time to go caroling in Shops. To brighten the day of a shopkeeper with song—what a gift to give!
Sentinel: Quit whining and build your silly airship already. There'll be plenty of time for you to serenade later.
pt4
Sentinel: Work faster! You're boring me to death here.
Overseer: I'm constructing this ship as fast as I can, but I'm not a miracle worker... anymore. Perhaps you should visit Towns for some spirited caroling?
Sentinel: I have been known to reduce people to tears with my haunting singing voice.
Overseer: Yes... haunting...
pt5
Sentinel: Hey, how'd we get in this mess again?
Overseer: If only there was some kind of illuminated tome documenting our struggles...
Sentinel: That'd be convenient. Too convenient.
---
Overseer, Sentinel, & Cresento
Edit
This took place on the X-Mas main page within text bubbles. Cresento has crashed into Overseer's Airship.
pt1
Cresento: Whoops! While sailing my majestic airship through the skies, it appears I accidentally crushed your tiny bathtub. You should be more careful where you pile your garbage.
Sentinel: Learn how to fly an airship, @#*%er!
Overseer: Cresento, you have done a grave disservice to the people of Gaia!
Cresento: I said "whoops," didn't I?
Overseer: We need cheer now more than ever. Help us fuel up and rebuild, Gaians!
Sentinel: We gotta crush this guy! Donate already!
pt2
Cresento: I'd ask for donations, but I'm already fabulously wealthy.
Overseer: Argh! You are the worst guy!
pt3
Cresento: I don't understand. It seems to me like two immortals with aeons between them would be wiser than this.
Overseer: I'll have you know that we have a perfectly cromulent reason for building this airship.
Sentinel: A perfectly what reason?
pt4
Overseer: O-our airship! It has been crushed!
Sentinel: Hey jerk, this isn't a parking spot!
Cresento: Oh dear, is that what that was? I was worried I had crushed a porta-potty.
Cresento: Frankly, I think it's an improvement.
Sentinel: Hm, you've got a point...
Overseer: Hey!
pt5
Cresento: I was just on my way back from purchasing goods of the highest quality. Say, would you guys like some to help power your "ship"?
Overseer: Oh my, that would be fantastic. Would you really give us some?
Cresento: No. Of course not.
pt6
Sentinel: Is it really necessary to tether down the bathtub like that?
Sentinel: I mean... do we really think it's going to get away?
Overseer: It does have legs after all.
Cresento: '...'
Sentinel: '...'
pt7
Overseer: This is going to take a while to sort out. Maybe you guys should hit up Towns for some caroling?
Cresento: I hope you have insurance, Overseer. I think your garbage pile scratched my airship.
Sentinel: This guy is @$#!in' unbelievable.
pt8
Overseer: I am up to my ankles in Xmas cheer!
---
Overseer, Sentinel & Brennivin
Edit
This took place on the X-Mas main page within text bubbles. Brennivin, Kanoko, and Radio Jack have returned to Gaia, and are helping Overseer and Sentinel.
pt1
Brennivin: Heilsa, little gods! Have brought special floaty sky boat with strange tree of perplexing!
Sentinel: Where's the rest of it? And what's with the tree?
Overseer: Quiet, Sen! Thank you very much, Brennivin! Your generosity shall not be forgotten.
pt2
Brennivin: Spreading of joy is part of hatiolegur times, ja? Enjoy, clam person!
Overseer: With some more holiday cheer, we can transform this humble airship into something mighty! Please help, Gaians!
Sentinel: Give us some fueeel! I wanna fly this thing into Cresento's stupid face.
pt3
Brennivin: Sen! Your hair! I must have it!
Sentinel: You... want my hair?
Overseer: He gave us an airship, Sen. The least you can do is cut off your hair and give it to him.
Sentinel: Uh, that's not gonna happen, guys
Brennivin: So sad! OK, I find something else to make wooly holiday scarf with.
pt4
Brennivin: Flynn lady has nice fashions available in Cash Shop for holiday special times. Take a look, ja?
Sentinel: She does stock the best, I'll give her that.
Overseer: I feel like I've been wearing the same underwear for millennia.
---
Overseer & Sentinel Pt2
Edit
This took place on the X-Mas main page within text bubbles. Overseer and Sentinel are on the Airship that was gifted to them from Brennivin.
pt1
Overseer: We did it! We finally finished our airship.
Sentinel: I gotta hand it to you... your silly little plan seems to be working.
Overseer: Thanks to the support of Gaians! Without them, we'd be nowhere.
Sentinel: I almost feel bad for trying to destroy them with my army of demons. Almost.
Oversee: There's still plenty of time to fill the auxiliary cheer tanks. Don't give up yet, Gaians! More cheer!
Sentinel: Yes, give us mooooorrrreeee!
pt2
Sentinel: Now that our airship is done, I say we go attack Crescento or maybe raid Barton. It's been so long since I've spread some quality terror!
Overseer: That's an awful idea, Sen. Let's stick to spreading Xmas joy and leave the raiding to qualified pirates.
Sentinel: Can we at least dump a ton of poisonous snakes and spiders overboard on the people below?
Overseer: You're really not good at this holiday cheer business, are you?
Sentinel: It's way harder than it needs to be.
pt3
Sentinel: It seems like just yesterday you were knee-deep in a bathtub meant to fly.
Overseer: I can remember how it all began...
Sentinel: No time for the past, dummy. Let's get flying!
---
Overseer & Sentinel misc
Edit
These took place on the X-Mas main page within text bubbles. These were advertisements / plugs for the Cash Shop and new Chance Item, and rotated within the dialogue.
Dec 16 and 21
Overseer: The new items in the Cash Shop warrant a serious look. They truly encapsulate the Xmas spirit.
Sentinel: You're only saying that because that Flynn woman brought you brownies.
Overseer: And they were delicious!
Dec 18 and 19
Sentinel: Whoa, I think I'm seeing things over here, man.
Overseer: What? You're not huffing fumes from the Cheer Engine again, are you?
Sentinel: Nah, I ate like six Snow Apples. Are there a bunch of snow dogs around me?
Overseer: Uh oh. Well at least you're going to get some fantastic prizes out of this.
Sentinel: Such a nice doggy... don't bite... don't bite...
Overseer: ...
Dec 19 and 21
Overseer: The prizes from the new Snow Apple are quite extraordinary.
Sentinel: Prizes? What prizes?! I ate like six Snow Apples!
Overseer: I fed yours to the Cheer Engine while you weren't looking.
Sentinel: I'm going to feed you to the Cheer Engine, you piece of--
Overseer: There's just so much cheer!
Event Conclusion
Edit
After the Overseer's final announcement, the event page was updated to include a timeline. This timeline began with a link to the "Fallen Gods" manga, included links to all 4 stages of the event, and then ended with a link to the "New Beginnings" manga.
New Beginnings...
In striving to save Xmas after Santa's mysterious disappearance, Sentinel and Overseer have found new purpose.
With the Cheer Engine brimming with fuel, their Airship takes to the sky, and they bask in the adoration of the Gaians who helped lift them from poverty.
But strangely, despite their triumph, their powers have not returned...
---
While riding in their Airship and pondering their life as humans, they find out that Gino Gambino has stowed away on their Airship. He protests to them about his previous (and unwanted) participation during the battle in October. The Overseer apologizes for this but doesn't know why Gino is on the Airship.
Gino explains that he needs a change of scene, and since he is on the Airship and Clam Guy took over his body he should be allowed to stay. The Overseer says that he and Sentinel are not going anywhere in particular, so Gino decides that he shall be of use by becoming their navigator.

Elsewhere, in a cold environment a group of ElfTechs have found the location of Santa Claus, the Easter Bunny and even Jack! As Santa shivers, he tells the Techs that "He's Coming."
Event Items
Edit
Event Items: Caroling
Edit
As always, Gaians were able to carol in shops or in Gaia Towns to earn Spirited clothing.
Spirited items
Edit
Spirited 2k9 Captain's Cap - One of the most iconic pieces in any captain's uniform. This cap is festive and elegant as it sports silver accents and Casimir leaf ornaments.
Spirited 2k9 Embroidered Scarf - A lovely scarf in rich mint hue. The swirl accents remind you of the brisk winter wind.
Spirited 2k9 Captain's Coat - An elegant captain's coat inspired by a mythical tree...
Spirited 2k9 Casimir Dress - A festive party dress inspired by a mythical tree...
Spirited 2k9 Embroidered Stockings - Festive green stockings embroidered with shimmering silver thread.
Spirited 2k9 Captain's Boots - Emerald-encrusted captain's boots, they'll give you your sea legs, so to speak.
Spirited 2k9 Casimir Fascinator - An elaborate headpiece of Casimir leaves set ever so delicately in silver.
Spirited 2k9 Casimir Pin - An elegant pin in the shape of the beautiful Casimir tree leaf.
Caroling phrases
Edit
What NPCs say when Gaians clicked to their shop to carol.
Carol: What a nice X-mas carol! Keep caroling by visiting different shops and you might get a gift!
Carol too Quickly: Oo, you need to take a little break from caroling! You'll be able to carol again in (# secs).
Carol Complete: You've been singing all day! That's the X-mas spirit! Here's a gift for all your dedication: (Spirited item).
---
Event Items: zOMG
Edit
Coal Sprite - These cute little spirits thrive on naughty thoughts. Take extra care around the Gaian who sports more than one or two...
Recipe: Coal Sprite - If you smash enough Coal-ossal Fail together, sometimes a Sprite emerges.

Recipe Ingredients: 30x Coal-ossal Fail
Peppermint Squid - Ia! Ia!
Recipe: Peppermint Squid - It's festive! It's a hat! It's a...squid?

Recipe Ingredients: 1x Peppermint / 2x Ribbon / 6x Foam Sponge / 3x Stitches / 2x Wetware Plastic / 1x Sailor Ink / 1x Synthetic Fiber / 1x Tentacle Piece
Reindurr - A festive reindeer backpack with plenty of extra space due to the amount of air in this poor little guy's head.
Recipe: Reindurr - Make a big dopey air-headed reindeer to wear!

Recipe Ingredients: 1x Jingle Bell / 4x Cotton / 2x Leather / 2x Ribbon / 1x Stitches
Recipe: zOMG Ribbon - Make a festive ribbon to wear while you're fighting!

Recipe Ingredients: 1x Festive Ribbon / 3x Copper / 2x Garlic Peel / 1x Silk
Ingredients: zOMG
Edit
Coal-ossal Fail - There are many lumps of coal in the world. But this one is yours.
Festive Ribbon - Perfect for putting on presents or for decorating a tree.
Jingle Bell - All horse- or reindeer-powered sleighs should have these on them during the holiday season.
Peppermint - Melt it in hot chocolate, chew on it to feel festive, or give it as a gift if you're feeling cheap.
---
Event Items: Cheer Tank
Edit
(Donate 1 item)
Overseer / Sentinel Figurine - Homemade figures of your favorite godly heroes.
(Donate 25 item)
Overseer's Tub - Splish splash I was taking a bath...
(Donate 50 items)
(Donate socks)
(Donate 1 housing item)
Xmas 2k9 Overseer's Makeshift Red Engine Doll - Make haphazardly, but with all of the love and cheer the Overseer could muster.
(Donate 5000 gold)
Overseer Tarp Cape - Durable and waterproof, but maybe not the most comfortable cape there is.
(Earn 50 Gingerbread Men)
Garbage Wings - The result of seemingly endless waiting, countless hours of hard work, and exhaustive questing—for the perfect dumpster.
(Earn 250 Gingerbread Men)
Tinsel Halo - Finally, your Archangel Gabriel cosplay is complete.
(After the Cheer Tank was filled, everyone who chipped in an item could receive this gift.)
Criticism & Compliments
Edit
Due to this event being gold sink based, there were a few threads disapproving of the method, though the loss of gold was very little. While some felt that this event was merely an attempt to balance the economy and remove junk items from inventories.
User did enjoy the story involving Overseer and Sentinel, and liked the new color for the spirited items. The Overseer's gifts were said to be a hit or miss. With the unexpected arrival of Cresento, his Airship crash moment was considered a highlight.
The 17-page manga was highly praised for its art style (done in black&white) and depth, including its comical moments.
Glitches & Problems
Edit
As no event on Gaia has ever gone on without glitches, the 2k9 Xmas event was no exception, though not as severe as previous events.
Glitches: Site & Forum
Edit
Similar to Halloween 2k9, Users were let onto the event page a small amount at a time as to not overload the server. Though by the 17th, some people still could not get in to participate in the event.
Some Users reported that the window on the X-Mas main page, rearranged items in their inventory.
The NPC Shops that had Exchanges, had become glitched, and were selling Spirited items. They were shut down during the event to be fixed.
---
Admin Lead PMs
Edit
Titled: Warning: Exploiting site glitches is not allowed
Hello (Username),
This message is to notify you that we have noticed you received event items that should not have been released. These items were erroneously made available in the Gaia shops, and as such should not have been available for the price your purchased them at.
We appreciate that you did not make many purchases, but would ask that in the future you do notice an abnormal listing in any of the shops that you immediately notify Gaia staff and not make any purchases, as doing so can be seen as glitch exploitation, a very serious offense.
Prohibited Conduct—BY USING GAIA ONLINE YOU AGREE not TO:
use site features for anything other than their intended purpose, including exploiting site glitches for personal gain.
Thank you,
(Name of Admin)
Gaia Online Administrator
Dev Alerts & Dev FAQ
Edit
"Sticky: Known Bugs - 12/17 3:11"
Current Known Bugs: New Items Unavailable
Description: When you buy a new item or get a new item from somewhere, it does not show up in Event inventory.
Why? We had to add a bunch of optimizations to Event inventory so it didn't keep hitting our databases to grab your inventory.
Potential Solutions: We might add a "Update My Inventory" link as a quick fix, or a better fix would be to bust it whenever stuff is ADDED to your inventory.
---
These fixes mostly deal with people getting the weird IE 7/8 javascript errors.
All links on event page should now work in IE 7/8/Firefox (IE 7/8 users need to be just a little patient with the inventory loading screen since it takes IE a little longer to render it).
CLEAR YOUR CURRENT CACHE AND REFRESH THE PAGE
Now, when you get new items added to your inventory the inventory in the event will be automatically refreshed with your new items.
Facebook share link should be working and pulling in a title/description to share. Intro modals should also show up correctly so you can complete the intro now!
The bug where you were getting the wrong amount of gingerbread men has been fixed.
There are several known bugs that we're working out at the moment. We're pushing a bunch of fixes right now that fix lots of issues from yesterday, including stabilizing the event so we can open it up to everyone.
---
"Xmas 2009 Event FAQ"
Q: When is caroling coming to towns/shops?
A: Should be out 12/17/2009, we had some problems today so caroling was delayed in towns/shops.
Q: Why are you only letting a few people play?
A: This is our first really big gold sink + item sink combination and its proved to be challenging making sure everyone can get rid of unwanted items and still make the site/event usable.
Q: How come my stats don't auto update?
A: They update when you hit "Back to the Event Page" upon a successful donation. However, we are working on making it work when you just close the window as well.
Q: How come I can't donate my Gingerbread?
A: Gingerbread just show you your progress for the event. They are not really an item, just another form of currency for this event, also it won't show up in your inventory sadly.  
Q: That chat widget is interesting.
A: Hay! That's a statement, not a question!
Q: Event goes out, site breaks, and I can't play the event. This reminds me of old Gaia.
A: Yes, yes it does :p
This event marks the first time that Gaia used Green & White for Spirited items, instead of Red & White.
A unique feature for the event was a real-time mini chat box on the event's main page.
This event also featured a free bonus downloadable mini-game, When Gods Fall.
External links
Edit