Christmas 2k3
was the very first Christmas event on Gaia Online (known as Go-Gaia at the time) and was a memorable one for those who participated. It included not only a gift from Santa, but also the infamous charity tree.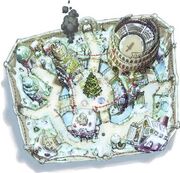 Located in the middle of Barton Square, a giant Christmas tree was available for all Gaians who wished to donate a store item valued at 500g or more that season. As a reward/gift for their contribution, users received a Christmas Charity Gift, which contained a pair of Jolly Slippers to keep their feet warm.
Other items were received by users donating to the tree, such as the red nosed reindeer mask. Lucky users received Fairy Wings from the Giving Tree (which at the time, was the most expensive shop item costing 40,000 gold), which provoked many users to continuously give items to the tree in hopes to receive such a gift. This caused a flood of Jolly Slippers for quite some time.
On December 25th, there was a box called Santa's Gift in each user's inventory that when opened, contained a Jolly Hat. This gift was only granted to those who logged on during Christmas day.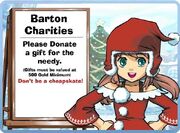 W-wait a second, is that all there is?!
This article is a stub. You can help Gaiapedia by expanding it.
Please remove this notice only after the article contains the correct information, is as complete as possible, or is beyond stub length.

Stub pages are automatically sorted into this category.