The Xmas 2k10 event had a build up starting December 10, 2010, while the full event kicked off on December 17, 2010.
Santa is looking forward to a great Xmas, but he's got a lot of odd jobs to do first. Unfortunately, he's not the most safety-conscious guy. It's up to you and the elves to keep him from being horribly mutilated!
Event Beginning: First Day & Rest of the Event
Edit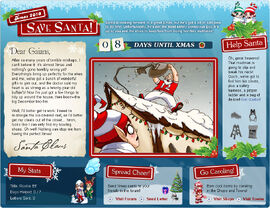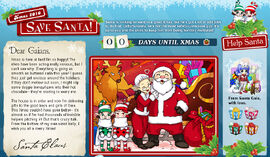 Gaians found they could Carol in Gaia Shops.
A forum for the event had been created, called Xmas 2010: Save Santa!, occupying the Hot Topics forum. Two elves named Nippers and Turkey posted around the forums.
Main Page becomes accessible, Wing Sticker is click-able, and a scavenger hunt commenced by which Gaians could complete Day 1 of the event.
Announcement of Santa Claus's return.
Day 2 of the event.
Day 3 of the event.
Day 4 of the event.
Day 5 of the event.
Day 6 of the event.
Day 7 of the event.
Day 8; Gaians were gifted four giftboxes of items at the end of the event.
End of Event
Announcements
Edit
Elf: Thread Announcements
Edit
Dec 14 Don't post here if you're not in the holiday spirit. [1]

And by the holiday spirit, I mean holiday clothes. evil

Like you. And you. And you way over there. Yes, I can see you, you know! "icon_scream" You know, we elves have it hard, what with the festivities and keeping Santa safe and all. I mean, the least you can do is show your holiday spirit.

Oh yeah, and season's greetings and all that stuff.
Dec 14 Hello, Dearies, Such Great Spirit I see! >w< [2]

I can smell the Holidays in the air, can't you? I'm very excited to be here spreading the cheer! I will be seeing you all around.

Of course... I worry about Santa this year...
Dec 17 I'm back, Santa! [3]

It's great to be back and I really hope that we can get it right this year! It has been a long time since I have had this opportunity. I understand that some of your other elves are present and I look forward to working with everyone. This will be the best holiday season ever!
Dear Gaians,

For years, Xmas has been slipping away from me. First I was mind-swapped with a cow by those dastardly Zurg, and it took me a miserable two years to get my old body back! Then, last year, just when I was all rested up and ready to deliver presents, I was forced to go into hiding due to a terrible, unspeakable threat...

But I'm through hiding! I'm no coward! If shadowy assassins want to rip me to bits-- or set my head on fire, like they did to that poor jellyfish demigod-- they'll just have to come and try it. I'll be right here waiting for them.

I know, I know, it seems like something always comes along and mysteriously incapacitates me right before Xmas. But not this year! I'm utterly confident that I won't somehow be tragically killed or horribly mutilated right before my favorite holiday.

Tonight I'm going to rip up my life insurance policy in the presence of a licensed notary. I'm going to rewrite my will to stipulate that all my possessions be thrown in a volcano. Do you know why, boys and girls? Because NOTHING could possibly go wrong this year.

I'm telling you, I feel invincible. I'm not scared anymore. No harm can come to me. This year, come hell or high water, I'll be delivering Xmas gifts again!

Yours most sincerely, -Santa Claus


P.S. - You know what I missed most during my long absence? Getting wonderful letters from all the good boys and girls of Gaia! Please feel free to send me a private message-- I can't reply to all of them, but I'd be delighted to hear from you!

Read on for an important message from the elves!
[NPC] Nippers: Announcement
Edit
Hey, you got a minute?

We're as excited about Xmas as Santa is-- it's great to have him back, make no mistake-- but he's been acting a little funny lately.

He's never been the most safety-conscious guy, but ever since he decided to come out of hiding, he's been swaggering around like nothing can hurt him. Waltzing around the workshop without a hard hat, taunting the reindeer during rutting season-- that kinda stuff. We'd hate to see some terrible accident befall him just when he's finally ready to deliver presents again.

I was wondering if you could do us a favor. We've been busy making toys for all the good kids, so maybe you could come up for a quick visit and keep an eye on Santa's safety a little bit. We could really use your help.

Help the Elves!

But you shouldn't spend all your time keepin' an eye on that big doofus-- there's plenty more holiday cheer to be had! You should visit the Xmas forum and send a nice card to a friend, or go caroling in the shops!

Visit the Xmas Forum Go Caroling
Christmas Items
Edit
As always, Gaians were able to carol in Gaia Shops or in Gaia Towns to earn Spirited clothing.
Event Items: Caroling
Edit
Spirited Items:
File:Xmas2k10_SpiritedSnowflake_items.png
Spirited 2k10 Snowflake Hat - This fuzzy hat looks cold, but it is sure to keep you warm this holiday season!
Spirited 2k10 Snowflake Scarf - A long, winding scarf that is guaranteed to keep you warm while getting snagged on everything you walk by.
Spirited 2k10 Snowflake Coat - This stylish coat has a light blue collar and speckled snowflakes, creating a wonderful winter accent on it.
Spirited 2k10 Snowflake Dress - This flowy dress is a little breezy for winter, but it sure makes you look cute!
Spirited 2k10 Snowflake Trousers - These pressed trousers are a soft duel color of white and blue, so be sure not to sit on anything dirty.
Spirited 2k10 Snowflake Stockings - Sleek, white stockings decorated with pristine snowflakes, giving your legs and elegant look.
Spirited 2k10 Snowflake Belt - These duel belts criss-cross on your hips for a fun look while being quite festive, making for a great holiday accessory.
Spirited 2k10 Snowflake Bag - This messenger bag is a great way to carry all of those presents you're going to get from all your friends! Or all your coal if you've been naughty.
Caroling Phrases
Edit
What NPCs say when Gaians clicked to their shop to collect candy, presented Alphabetically.
Caroling:

Agatha: You look just darling in your winter finery! Care for a candy cane?
Becky: Thanks for stopping by, and keep spreading the cheer!
Bildeau: I am not programmed for joy, but I will simulate it while you sing.
Brennivin: Da zinging ist wunderborken, ja! Like silk panties in mine ears!
Carl: (Carl appears indifferent to your song but doesn't attempt to cause you any bodily harm.)
Edmund: Your rosy, chapped young faces bring joy to my heart.
Ian: That's some great singing. It pierces me to my semi-vampiric heart.
Josie: Thanks, that was great!
Liam: Awesome! But do you know any carols about babes?!
Mirai: Thanks for stopping by with a little holiday cheer!
Moira: Smells like Xmas spirit!
Natasha: Merry Xmas! It's always good to see the ancient art of caroling in action.
Nicolae: Good to see ya! I'm always in the mood for a rousing carol.
Old Man Logan: Ya wanna hear me sing? Well get ready, 'cause this will knock yer socks off!
Rina: So many great floral arrangements at Xmas! And even more baking!
Ruby: Just lovely! And your holiday outfit looks wonderful!
Sam: Happy holidays! I'm hoping I get a train-- and not a toy one!
Sasha: Yay, carolers! Sing the one about the good thing that happened!
Vanessa: I've always been a big fan of Santa's beard. A classic style.
The Wing Scouts: Spreading Xmas cheer is part of the Wing Scout credo!

Valentine: What a nice X-mas carol! Keep caroling by visiting different shops and you might get a gift!

Caroling too Quickly:

Agatha: I need a little break from caroling.
Becky: We're hanging mistletoe. Come back later.
Bildeau: My circuits are cooling, please return after some time has elapsed.
Brennivin: Ve are busy, many preparations for holiday time, ja?
Carl: (Carl is busy.)
Edmund: Come back later, I've got an experimental Xmas cookie I need to try out.
Ian: Hang on a second, I've to mix up another batch of eggnog
Josie: Ooh, give me a minute, I've got some cookies that need to come out of the oven.
Liam: Come back in a minute, there's a gnarly wrestling match on.
Mirai: I've gotta feed some fish, stop by later.
Moira: Hang on, I need to go rock out for a minute to cleanse my caroling palate.
Natasha: Hang on, I'm giving this guy a sweet unicorn tat.
Nicolae: I'm trying not to attract too much attention. Come back later.
Old Man Logan: Gimme a minute bub, I'm needing a sit down.
Rina: I think there might have been some pine cones in my last cookie... try me again later.
Ruby: Try us again later-- caroling gets Peyo really worked up.
Sam: Nomnomnom, too busy eating cookies right now...
Sasha: Oh nerds, I'm all out of cookies for you. I'll be back in just a minute...
Vanessa: Back already? I need a breather.
The Wing Scouts: We got too excited and broke an ornament. Come back later-- we're busy gluing it together.

Valentine: Oo, you need to take a little break from caroling! You'll be able to carol again in (# secs).

Caroling Complete:

Agatha: Sorry, we're all caroled out.
Becky: Sorry, we're all out of Xmas snacks.
Bildeau: My joy simulation has crashed.
Brennivin: All done. No more zinging, danke.
Carl: (Carl appears to be leaving his droppings in the back of his store. He is probably done with caroling.)
Edmund: I'm afraid that's all the caroling this old man can take for one day.
Ian: Whew, I think I'm done for the night. Too much fruitcake for me!
Josie: Sorry, I've got to make some international calls. Business, y'know?
Liam: That's it for me! Have a great holiday!
Mirai: Shhh, the fish are sleeping. No more caroling for us.
Moira: I'm spent. Try someone else's shop.
Natasha: We're done caroling-- those songs are starting to get on my nerves.
Nicolae: The fuzz is getting wise to me. Gotta close up for awhile.
Old Man Logan: That's all for me, bub. I'm goin' fishin'.
Rina: All out of cookies, sorry.
Ruby: Sorry, I need a long break from caroling. Peyo has worn me out.
Sam: Ugh, too many cookies... I gotta sit down.
Sasha: Sorry folks, I'm all out of Xmas goodies.
Vanessa: Sorry kid, the rest of the eggnog's all mine.
The Wing Scouts: We're bored of caroling. Sorry!
Event Items: Scavenger Hunt
Edit
File:Xmas2k10_SaveSanta_items.PNG
Xmas 2k10 Santa is Watching Sweater - The penetrating gaze of Santa silently judges all who dare face this festive sweater.
Xmas 2k10 Event Elftech Shoes & Stockings - Curly elf shoes, now with striped stockings included!
Xmas 2k10 Event Holiday Cheer - Warm up with a stein full of mulled wine!
Xmas 2k10 Event Elftech Cap - A jaunty striped hat with a cheerfully bent point, giving it a fun and festive look.
Xmas 2k10 Event Festive Candycane Scarf - This long scarf is decorated with angled red and green lines, giving it the distinctive look of a candycane.
Xmas 2k10 Event Elftech Uniform - Keepin warm, savin Santa, Stylin hard... LIKE AN ELF!
Xmas 2k10 Event Gingerbread House - Smells like Christmas~ <3 Well, either that or hideously overpriced coffee that I can't help but buy anyway. Curse my Stockholm syndrome when it comes to coffee shop coffee!
Special Items
Edit
File:Xmas2k10_ChristmasBonus_items.PNG
Xmas 2k10 Event Santa's Bag of Toys (Bonus Gift) - No! No! I want an Official Red Ryder Carbine-Action Two-Hundred-Shot Range Model Air Rifle!
Xmas 2k10 Event Fir Laurels - A lush and vibrant headdress made of crisp green fir twigs.
Xmas 2k10 Event Garland Scarf - A scarf made of decorative ribbons, baubles, and shiny plastic tinsel.
Xmas 2k10 Event Cozy Fireplace - Something to be said about roasting chestnuts over an open fire...
Xmas 2k10 Event Winter Night - The rayless sun, / Day's journey done, / Sheds its last ebbing light / On fields in leagues of beauty spread / Unearthly white. -Walter de la Mare
Store Items
Edit
(The Treehouse)
Peppermint Candy Slippers - Plump and warm slippers that look like deliciously round peppermint candies. Pricing: 5 Wing Stickers
Wintertide Cap - A festive cap that reminds you of snowflakes, beautifully wrapped presents, and winter nights. Pricing: 15 Wing Stickers
Criticism & Compliments
Edit
There was a large mix of positive and negative towards the Event, mainly on how it functioned being a scavenger hunt. Some feeling that the creation of a scavenger hunt was lazy programing and found it to be boring or angered at it not working correctly, while others liked the simplicity and focus on the event story and artwork, it was also described as cute.
The amount of items was appreciated as it was one of the largest releases for Christmas event items compared to previous Xmas events. Gaians got attached to the arrival of the two elves, Nippers and Turkey, who interacted with the community.
With the events purpose being 8 Days of Xmas, it meant that missing a day resulted in not scavenging for the item reward. This was criticized regardless of the purpose, but it was later with the end of the event that the Main Page became a place for people gather previous items they may have missed.
Glitches & Problems
Edit
Glitches: Site & Forum
Edit
As presented in the Dev Notices the events main issue was the function of scavenger hunt. At times the items that needed to be found were not present despite clicking around the site. When an item was found and clicked upon, the item that was clicked, would not be the correct result on the "Reward" page, and thus it took another search to click an item in hopes of the correct result on the Reward page.
Dev Alerts
Edit
Caroling
Launching Caroling code and images, some things may be glitched until all the changes are made.
Xmas event is out.
Edit 17:17PST: In an effort to get as many included in the event from day one as possible the event page will not update again until Sunday morning. From then on it will update everyday until the end of the event.
Are you having issues? You can post them in this thread.
As of this writing here are the known issues:
GENERAL ERROR/YOU HAVE RECEIVED THE MAXIMUM NUMBER OF GRANTS"/"I am unable to earn the Day 1 item (sweater)"
- It seems like some folks have had this issue. It's most likely because you started using the event while we were still turning some of the features on. This shouldn't be an issue for future days. If you fall into this group (there should only be a few of you), please post in this topic so we know who you are. Just say "I got the GENERAL ERROR."
"I clicked image x and saw image y"
- Even though it showed you the incorrect image, the one you saw and clicked on should be the one granted. This can be confirmed by visiting the event forum or event page and looking at what items the system registered you having collected.
"On centered site the [whatever event page] doesn't look right."
- Centered site is a labs feature and we don't yet officially support it. Even though we are hoping to move in that direction in the future, the event page and event forum were styled to the existing site layout.
EDIT 12/19/2010 11:42 AM PST - Fixed!
Xmas 2010: Save Santa! - Issue with the Second Scavenger Hunt
Some users have reported an issue where today's scavenger hunt items are not showing up. We're looking into it.
Event Glitches
Events team made some changes that should take care of some of the event glitches that have been reported; please try it again if you haven't tried it recently.
[Made this another announcement because some people didn't see that indy_cole had edit his previous dev announcement.]
XMas 2010 Finale
Hey everyone the XMas event will officially end tonight at midnight PST. So get those last minute madlibs in while you can!
Tomorrow the event page will be updated with links for all the event items for those who may have missed one. (Caroling excluded)
Caroling in Shops and Towns will end tomorrow night at midnight PST so be sure to finish that up if you haven't already.
XMas Grants Ending
Hello everyone, if you haven't taken the time to get your XMas 2010 item grants from the XMas event page, today is your last day to do so! At midnight PST the links for your free event items will be disabled.
This event marks another unique set of colors for the Spirited items, Blue & White, instead of Red & White. Last year was Green & White.
The NPC:ElfTech 722 made a surprise return, and while warmly greeted by Gaians, he was met with hostility from Nippers, who claimed that him being there would put Santa in jeopardy. ET722 did not understand and hoped that he could help with the current situation.
While the return of Santa Claus was welcomed, Gaians speculated on what and who Santa ran away from in the first place.
Due to staff layoffs and some departing for other projects and jobs, the creation of the event caused issues for the remaining Devs and Artists, who worked overtime to get everything in working order.
Originally the item Santa's Bag of Toys was a bonus item handed out individually by the elves to various Gaians. When other Gaians got knowledge of the item and found out about its rarity, they began to criticize. This was solved by placing grant link to the item in each of elves signature.
See also & External links
Edit