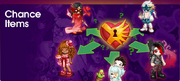 On the Gaiapedia, a Chance Item/Item (CII) will refer to items that are available from a Chance Item container. While they are considered to be Premium Items, there are also Common types.
The image to the right displays the Chance Item, called Love Charm, surrounded by the items it contains.

See also: Category:Chance Item/Item and SDPlus
Chance Items have a rainbow sparkle
External links
Edit
Ad blocker interference detected!
Wikia is a free-to-use site that makes money from advertising. We have a modified experience for viewers using ad blockers

Wikia is not accessible if you've made further modifications. Remove the custom ad blocker rule(s) and the page will load as expected.