The Carnevale is a carnival-theme set released on March 2, 2011

Description: This bundle contains Donna del Carnevale, Bel Gondoliere, Pierrot Piccolo, and the exclusive Mascherato.
Price: 999 Gaia Cash
Store: La Victoire (formerly)
Gender: Any
Date first appeared on Gaia: March 2011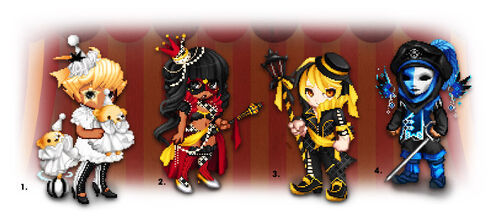 Mascherato - Whatever happens behind these masks... stays behind these masks. (exclusive item)
Donna del Carnevale - This lady is no fool as she is dressed in her finest for the ball. (499 Gaia Cash)
Bel Gondoliere - Come aboard and let me sing to you a song most tragic of two lovers. (499 Gaia Cash)
Pierrot Piccolo - This little clown will never make you sad. (299 Gaia Cash)
External links
Edit
"
Rigel and I are fascinated by the traditions of your world, and one in particular has captured our imagination this week: Carnevale, a time when nobility and commoners would put aside their social standing, hide their identities with masks and mix together in classless revelry. We've just imported a stock of beautiful finery from this grand festival:

The Donna del Carnevale looks stunning in her crown, ruffled neckpiece, stockings and elegant dress. Also includes a gorgeous, pearl-adorned hairdo.

Hit the canals in high style with the Bel Gondoliere, which comes complete with a full black and gold outfit, a jaunty hat and streaked black-and blonde hair.

Pierrot Piccolo is an adorable little clownish bear companion in a white ruffled getup. Hold him in your arms, watch him perform an astonishing ball-balancing act or even borrow his ruffled finery.

Save some Cash with the Carnevale Bundle,which includes all the great items mentioned above, plus an exclusive bonus: Mascherato, which includes the all-important Carnevale masks and headwear.

Head to the Cash Shop now to try on these limited-edition items! They won't stick around forever, so don't miss your chance to join the biggest celebration of the year.

"
 
Ad blocker interference detected!
Wikia is a free-to-use site that makes money from advertising. We have a modified experience for viewers using ad blockers

Wikia is not accessible if you've made further modifications. Remove the custom ad blocker rule(s) and the page will load as expected.