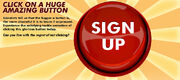 Big Button was the welcome page that Gaians and new members saw when they signed into the site. It arrived on Gaia around March 19, 2009. It came to be by a collaboration between developers Brunosmad and Cashmere Cactus.
The button is bright red and has the words SIGN UP printed in white. On either side of the button are Avatars that rotate to different Avatars along with speech bubbles that speak about the button. When the button is clicked it presses in.
At the very bottom of the page: If for any reason you are unwilling or unable to click the giant button, please email us at didnotclickthebutton@gaiaonline.com.
CLICK ON A HUGE AMAZING BUTTON
Scientist tell us that the bigger a button is, the more shameful it is to leave it unpressed. Experience the satisfying tactile sensation of clicking this glorious button today.
Can you live with the regret of not clicking?
Avatars of Big Button
Edit
Cashmere Cactus about Big Button
Edit
B-But I WANT to click the GIANT button too! (TTATT)[1]
There's something mesmerizing about the button. They teamed me up with Brunosmad to make the page, and he spent like three hours lovingly drawing the button with all its gorgeous depth and multiple layers of gloss, and I pretty much sat in his cubicle watching him make the button the whole time.
Then, when it was done, we spent a really long time just staring at it. We had to go to some meetings for a while, and after we were out, he said "you know what's weird? I really missed that button while we were gone." And, strangely enough, I'd really missed it too, so we spent another half hour or so pretty much just staring at the button and laughing about it. I'm not kidding; this is completely true. A lot of love went into that button. I might go stare at it some more tonight with the lights off.
Big Button E-mail
Edit
This is the reply one would receive if they were to email about the button.
Hello,


Our records indicate that you did not find our previous giant button satisfactory. At Gaia Online, we strive to make each of our buttons as large and magnificent as possible. However, due to variations in monitor size and screen resolution, some buttons may appear smaller than they actually are. We ask you to consider the following button, which is 44% bigger than the previous button. We feel confident that you'll enjoy clicking it.

Thank you
-Gaia Button Support Team
Ad blocker interference detected!
Wikia is a free-to-use site that makes money from advertising. We have a modified experience for viewers using ad blockers

Wikia is not accessible if you've made further modifications. Remove the custom ad blocker rule(s) and the page will load as expected.