The Bears and Blossoms is a set released on June 3, 2010
Bears and Blossoms Bundle

Description: Includes Ursa Major, Celebration Ribbons, Hunny the Bear, and the exclusive Ranunculus.
Price: 999 Gaia Cash
Store: La Victoire (formerly)
Gender: Any
Date first appeared on Gaia: June 2010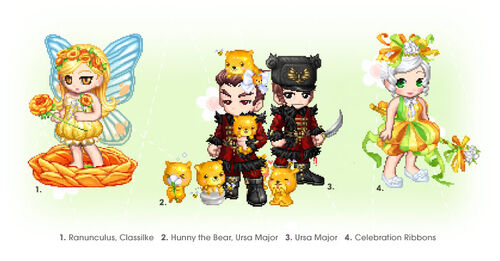 Bears and Blossoms Bundle
Ranunculus - Sweet buttercups to brighten up your day! (exclusive item)
Ursa Major - As functional as it is stylish, this fur-lined uniform will get you through the coldest of winters. (499 Gaia Cash)
Celebration Ribbons - Ribbons to wear as you dance through the air~~ (299 Gaia Cash)
Hunny the Bear - This sweet and sticky bear spends its days rolling in flowery fields and avoiding capture by hungry gourmands. (399 Gaia Cash)
External links
Edit
"

Mintaka: Hello, my lovable Gaialings! We've got some brand-new goodies for sale in the Cash Shop.

Rigel: We figured we'd celebrate some of Gaia's natural gifts with a salute to pretty bears and flowery goodness.

Ursa Major: A fur-lined uniform that includes a heavy coat, belt and sash, boots, gloves, pants and one seriously imposing hat. There's a cool slashin' knife in the mix, too.

Celebration Ribbons: A colorful collection of flowery ribbons. Wear 'em as a lovely head garnishment, a festive dress, around your wrist or tie 'em to a staff.

Hunny the Bear: A lovable and goofy honey-colored bear eager to hug and climb all over you.

Bears and Blossoms Bundle: Get all of the above items plus the exclusive Ranunculus, a beautiful orange flower you can sit on, wear as a boutonniere, a crown or simply hold in your hand.

Mintaka: Come see me and Rigel in the Cash Shop to grab any of these great items. We promise our shininess won't cause any permanent eye damage.

"
 
Ad blocker interference detected!
Wikia is a free-to-use site that makes money from advertising. We have a modified experience for viewers using ad blockers

Wikia is not accessible if you've made further modifications. Remove the custom ad blocker rule(s) and the page will load as expected.