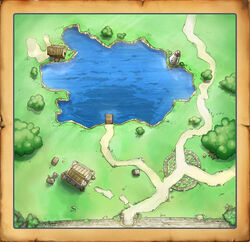 Bass'ken Lake
is the easiest fishing spot on
Gaia Online
, but is mainly full of guppies and junk. It is located just north of
Barton Town
.
The Ole Fishing Hole
is located here, along with the
Exchange Fish
.
Residents of Bass'ken Lake
Edit
The Ole Fishing Hole - This is the place to purchase rods and bait, and exchange fish for exclusive items.
Other Points Of Interest
Edit
Lighthouse - Turns on every night to light the lake for fishers.
Old lumber mill - Located on the North-West side of the lake, but has been closed for some time.
Bass'ken Lake is on page 20 of the Guide to Gaia, located on the World main page.
Just south of the Port of Gambino you will find one of Gaia's most popular destinations: Bass'ken Lake. Renowned for its great fishing, the Bass'ken Lake area is an idyllic getaway for anyone looking to unwind. Be sure to visit the Ole Fishing Hole and say hello to Old Man Logan, the lake's most famous resident.
Discontinuities
Edit
Although the world map has always displayed Bass'ken Lake as a closed-off pool of water, zOMG! shows the lake feeding "Upward Creek" that heads towards the forest in the South-West.
External Links
Edit
Ad blocker interference detected!
Wikia is a free-to-use site that makes money from advertising. We have a modified experience for viewers using ad blockers

Wikia is not accessible if you've made further modifications. Remove the custom ad blocker rule(s) and the page will load as expected.