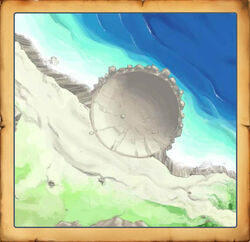 The
Barton Cliffs
are just northwest of
Barton Coast
, and despite being so far away from the main towns, have played a vital part in the history of Gaia.
Points Of Interest
Edit
Barton Cliffs was the site of the epic battle between Gino Gambino and Ian... and then LabTechX... and then Johnny K. Gambino... which resulted in the scar on the landscape simply known as the crater today.
During the Zurgs' stay on Gaia, cattle that escaped from Bill's Ranch were scattered over the land. Eventually, they all gathered at the crater in a large triangle shape.
Guide to Gaia
Edit
Barton Cliffs is on page 14 of the Guide to Gaia, located in the Spotlight section of the World main page.
The high, white cliffs on Gaia's northern shores remained lovely and unspoiled for centuries, until an epic battle between Gino Gambino and LabTechX produced a blast of energy that left a huge crater in the landscape.
External Links
Edit
Ad blocker interference detected!
Wikia is a free-to-use site that makes money from advertising. We have a modified experience for viewers using ad blockers

Wikia is not accessible if you've made further modifications. Remove the custom ad blocker rule(s) and the page will load as expected.