The Autumn Memories is a Autumn-theme set released on September 20, 2011
Autumn Memories Bundle

Description: Includes Sweet Sunrise, Sunset Harvest, Quillton the Hedgehog, and the exclusive Daydream Catcher.
Price: 999 Gaia Cash
Store: La Victoire (formerly)
Gender: Any
Date first appeared on Gaia: September 2011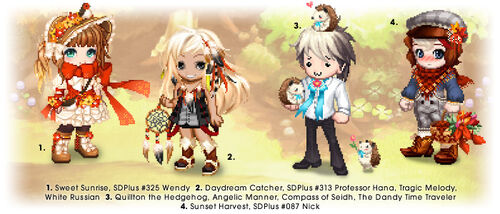 Daydream Catcher - A warm breeze, sweet scent of baked pie, and fond memories of childhood friends... (exclusive item)
Sweet Sunrise - A breathtaking view of a sun-kissed field of autumn flowers, lit by the warm glow of the rising sun, as he takes your hand for an adventure... (499 Gaia Cash)
Sunset Harvest - There's just something so sweetly nostalgic about autumn~ (399 Gaia Cash)
Quillton the Hedgehog - His pudgy widdle tummy is so soft~! ;m; (299 Gaia Cash)
External links
Edit
"
While many associate spring with blossoming romance, let's not count out autumn-- shirtsleeve weather gives way to a nice cuddly chill, and the changing leaves make for fine romantic strolls. With this in mind, Rigel and I thought we'd offer a nice autumnal love story:

With Sweet Sunrise, our heroine frolics in a field of flowers and brings a classically girlish air to the fall palette of red, orange and yellow. Includes bonnet, wig, dress, wrist ribbon, scarf, bird purse and boots.

Sunset Harvest introduces a sweet, shy local gardener boy. He wears a gentle wardrobe with lace trimmings, gingham and checkered patterns. Includes a hat, pants, shirt, wig, scarf, boots, and a basket full of harvested autumn goodies.

The pudgy Quillton the Hedgehog is quite a dapper little fellow in his blue bowtie ribbon, adorned with his favorite flower and a touch of lace.

If you pick up the Autumn Memories Bundle, you'll get all of the items above plus the exclusive Daydream Catcher, a feathered dreamcatcher which also features earrings, a necklace and gorgeous hair extension.

You can get these items now in the Gaia Cash Shop. Stop by for a visit and try them on!

"
 
Ad blocker interference detected!
Wikia is a free-to-use site that makes money from advertising. We have a modified experience for viewers using ad blockers

Wikia is not accessible if you've made further modifications. Remove the custom ad blocker rule(s) and the page will load as expected.