The Arabian Wonder is a Arab fantasy-theme set released on May 4, 2012, it is purchasable only with Gaia Cash or from other users via trades or the marketplace.
Arabian Wonder Bundle

Description: Includes Prince Dhanun, Aamira the Wanderer, Mari the Djinn, and the exclusive Malicious Vizier.
Price: 999 Gaia Cash
Store: La Victoire
Gender: Any
Date first appeared on Gaia:
May
2012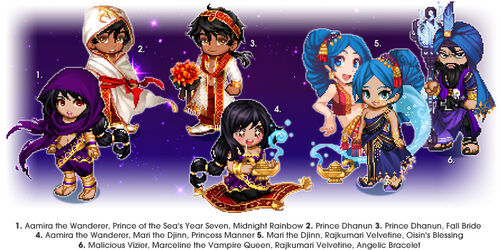 Malicious Vizier - If you trust a guy like this, you don't have a lot of common sense. (exclusive item)
Aamira the Wanderer - Beauty and brains are a plus in a place where making a living on your own is tough at best. (499 Gaia Cash)
Prince Dhanun - Oh, how he longs to see the world outside the palace walls! (399 Gaia Cash)
Mari the Djinn - She's kinda off her rocker, but then again you would be too if you had infinite cosmic power but itty bitty living space. (299 Gaia Cash)
External links
Edit
"
Good day! Rigel and I are stocking the shelves with a new series of items based on one of the most extravagant exotic tales in history with a slight twist. Get all three of the new items at once in the Arabian Wonder Bundle and you'll also get a gorgeous new exclusive!

Aamira the Wanderer - Though Aamira is less fortunate than most, she's no damsel in distress. Clever and good-natured, the adventurous young woman sets out to earn a better living, when along the way she meets the handsome prince in disguise. Set includes hood, long black hair, sash-skirt, bangles, pants and enchanted rug.

Prince Dhanun - Tired of having his royal life lived out for him, Prince Dhanin escaped the marble walls and fled the palace, covered in a white cloak. At the bazaar he meets a beautiful young girl, so much more enchanting and sincere than any of the palace courtesans that he's ever met. Set includes his cloak, royal locks of wavy hair, brocade stole, embroidered palace coat, cloth pants, and gold-plated slippers.

Mari the Djinn - Lost for thousands of years buried among infinite treasures, Mari is happy to be out and ready to serve her new master! Will you be the one to set her free? She'll doll your hair up real nice if you do!

Get all three of the above items at once by buying the Arabian Wonder Bundle and you'll receive the exclusive Malicious Vizier! It's loaded with all the trappings needed to fool do-gooders into doing your dirty work. Comes with a draped turban, ominous staff, a beard that no self-respecting evil wizard could be without, and a glimpse into the Cave of Forgotten Wonders!

These beautiful fashions aren't a mirage-- visit the Cash Shop right away and claim them for yourself!

"
 
Ad blocker interference detected!
Wikia is a free-to-use site that makes money from advertising. We have a modified experience for viewers using ad blockers

Wikia is not accessible if you've made further modifications. Remove the custom ad blocker rule(s) and the page will load as expected.