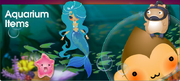 An Aquarium Item (AQ) is a Premium Item is an item that is made to display in the Gaia Aquarium feature. These types of items consist of Fish and other aquatic creatures, decorations, backgrounds, and terrains.
Aquarium Items can be purchased in the Phin Phang cash shop. But while this shop's currency is mainly Gaia Cash for uncommon and limited items, there are items stocked for use of Gaia Gold.
Types of Aquarium Items
Edit
Fish - Being a subjective term on Gaia, these refer to are any type of creature that can live in the aquarium. While there are traditional fish breeds, other 'fish' include original Gaia creations, mermaids, and former zOMG! enemies.
Decorations - Are items, such as mini plants and rocks, that can be placed around the aquarium for decorative purposes.
Backgrounds - Are graphics that equip to the back of the aquarium, displaying various Gaia related images.
Terrain - Is a graphic that equips to the bottom of the aquarium, such as pebbles.
Special - Are bundles that imitate 'collectable card series'. These contain mini-monster fish that can live in the aquarium.
Aquarium Items have an aqua sparkle
External links
Edit