The April Fools 2k12 event took place on April Fools Day in 2012, the name of the event was "Mother Duck's Sunday Stroll".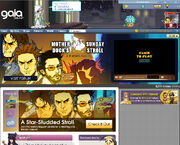 Upon signing into the site, Gaians were greeted with a drop down menu that contained a movie trailer. They could go to the event forum to scavenger hunt for the heads of the celebrities.
Announcements
Edit
Apr 1 Prepare for Mother Duck's Star-Studded Sunday Stroll! [1]

Three of the world's biggest stars have teamed up for a high-budget blockbuster, and only Gaia Online has the inside scoop! The action-packed bestseller Mother Duck's Sunday Stroll is being brought to life by Ron Bruise, Chorlie Shane and Digiorno Lee, and all three celebs will be hosting an EXCLUSIVE live chat right here on Gaia at 12pm/Noon PDT!

We'll also be holding a scavenger hunt where you can earn some cool items. Hit the forum for all the details!

Visit the Forum!
Event Items
Edit
Gaians had to click the heads of the mentioned celebrities to earn the item. However, this turned out to be a trick and clicking the heads brought nothing, but that didn't stop Gaians from fabricating that there was an item available.
It was later that an item was released during an interview with the celebrities.
Glitches & Problems
Edit
Glitches: Site & Forum
Edit
The event was launched prematurely on March 30th and the madman that was incapacitating the servers was promptly dispatched by Ron Bruise.
Dev Alerts
Edit
Site Errors

Looks like the site has decided to start April Fools early and try the age old "Haha, I don't know how to work correctly" trick. Not to worry, we're teaching it that tricks like that aren't very funny. We'll have it back to normal soon. Sit tight!

Site Recovering

The site fell down and went boom for a bit, but it's coming back up now. The site should return to full functionality for everyone in the next few minutes. Needless to say, the madman that was incapacitating the servers was promptly dispatched by Ron Bruise.
Ron Bruise, Chorlie Shane and Digiorno Lee are parodied off of real life celebrities Tom Cruise and Charlie Sheen, the other possibly parodying Keanu Reeves. Though Digiorno appears to be an original character.
The writer of the novel that spawned the dramatic reading is Bernice Wigglehuff.
April fools icon
Whats hot module, April fools
Small poster
You Found: an advertisement for the dramatic reading of MOTHER DUCK'S SUNDAY STROLL!
Background
April fools forum w/head
Chorlie Shane
Digiorno Lee
Ron Bruise
[NPC] Chorlie Shane
[NPC] Digiorno Lee
[NPC] Ron Bruise
External links
Edit
Ad blocker interference detected!
Wikia is a free-to-use site that makes money from advertising. We have a modified experience for viewers using ad blockers

Wikia is not accessible if you've made further modifications. Remove the custom ad blocker rule(s) and the page will load as expected.