The Air Gaia is a aviation and airline-theme set released on August 6, 2010

Description: Includes Retro Runway, Skyward Mechanic, Postal Pigeons, Teal Heartstring, and the exclusive Golden Aviation.
Price: 999 Gaia Cash
Store: La Victoire (formerly)
Gender: Any
Date first appeared on Gaia:
August
2010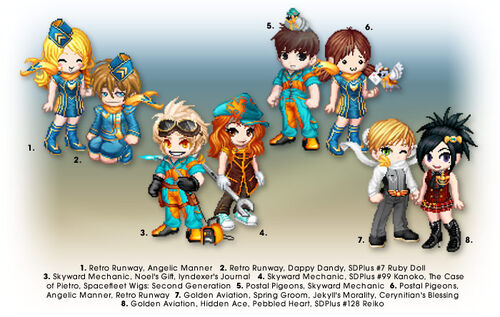 Golden Aviation - These golden wings are proof of one's expertise in aerial flight. (exclusive item)
External links
Edit
"
Mintaka and I have been awfully busy this week rounding up new fashions. We've put together a great collection of super-stylish airline-themed ensembles. Observe!

Retro Runway comes with everything you need to look like a stunning stewardess: a cute cap, scarf, jacket, dress and boots.

Postal Pigeons love carrying your letters through the air, and now you can have one to hang out and be your little buddy.

Keep planes in flight with Skyward Mechanic, featuring a colorful jumpsuit, boots, pants, cap, apron, tool belt and welding kit.

You can also pick up the Teal Heartstring as a lovely new additional accessory.

The Air Gaia Bundle comes packed with all of the above items, plus an exclusive treat: Golden Aviation.

If you'd like to grab any or all of these goodies, just come visit us in the Cash Shop! Don't wait too long, because these items will only be available until Friday, August 20th.

"
 
Ad blocker interference detected!
Wikia is a free-to-use site that makes money from advertising. We have a modified experience for viewers using ad blockers

Wikia is not accessible if you've made further modifications. Remove the custom ad blocker rule(s) and the page will load as expected.