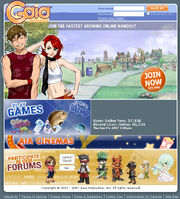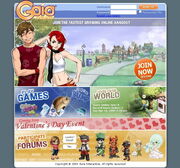 2007 (MMVII) was Gaia's Fifth year and its Fourth anniversary.
During this year a lot of changes happened. There were two site overhauls, navigation upgrades, and forum layouts. It is May 22nd with the changes to the site's navigation that marked the beginning of the "Thought Bubble" next to the Avatar (when a message is received). Trivia note: Ling's Avatar was used as an example for this feature, however, a fake Username was used called "long username is longgggg", this name was quickly snapped up for a Mule account by a Gaian.
An update to the Marketplace (called 3.0) introduced the 2% fee, and alteration in how the bid function works. There were fixes and changes to the Profile v2 System. Users could now see Recent visitors to their profile, choose whether or not their personal stats can be displayed, could make their Profile public or private, embed media, and access profile by URL.

On January 31st the cost of upgrading the size of a home went from 20,000 gold to only 5,000 gold. Everyone who already paid to upgrade received 15,000 gold to their account as a refund.

The 28th of February marked the introduction of Sponsorships along with Movie/anime items, quests, and events. New Line Cinema asked Gaia to promote their new movie "The Last Mimzy". The second sponsor was Scion, which tied into the new Gaia Rally's and the introduction of cars. The third sponsor was MTV, which led to a new shop that held modern style clothing.

Besides the sponsorships and feature upgrades, the biggest change was the introduction of Gaia Cash on July 23rd. Because this gradually led to the La Victoire being released and premium items such as Evolving Items making its debut. To make getting Gaia Cash more convenient, Cash Cards were were announced and were released to well known shopping areas such as Rite Aid and Target, some cards included bonuses such as pets or plushies.
Trivia
A Salon update on June 7th, led to new hairstyle color, instead of just one basic color for one update, there was now a light and dark shade.
August 14th is when changes to the game room names appeared. Users could no longer name a room, instead the name of the room would be their username. This came from feedback about other users breaking the TOS when it came to naming rooms.
August 21st and 25th - Beta testing for the new Marketplace began for those that had bought Monthly Collectibles in the past month.[1]
Milestones for Gaia Online 2007
April 13th, Gaia reached its one billionth post, to celebrate, the gold earn was doubled for a few hours.
June 19th Gaia Online was the winner of Webware 100 award! Gaia Online won a staggering 91,293 votes--60 percent of the votes in its category and 19 percent of all votes cast in the awards. (see) 1st announcement and (see) 2nd announcement
September 03rd, over 100,000 users were online during the Summer Festival. (see) Announcement: We beat 100k! Thank you!
External link
Featured Announcements 2007
January 01 - Celebrate 2007 with Double Gold!
January 04 - We've revamped the Monthly Collectible payment system.
January 05 - The winners of the Art Contest will be announced soon!
January 08 - Changes to PM system and gold granting
January 09 - We're proud to present the Holiday Art Contest winners!
January 10 - New t-shirts in the GStore!
January 10 - Three Collectibles? Your Input Needed.
January 15 - The January Collectibles are here!
January 18 - Gift giving is back!
January 22 - New limited-edition t-shirt in the GStore!
January 30 - New Front Page Design to be released
January 30 - Salon update!
January 30 - New Gwee plushie/keychain in the GStore!
January 31 - Towns were down for about an hour.
January 31 - Good news: The Housing Commission has been revamped!
February 07 - Valentine's Day Event... and 3 Collectibles!
February 08 - The Gwee Flame T-shirt: Now available in men's sizes!
February 14 - The Valentine's Day Event is here!
February 15 - The February Monthly Collectibles are here!
February 20 - New hats, hoodies and shirts in the GStore!
February 23 - Thank You For Four Great Years
February 28 - Coming in 2007 - Movie/anime items, quests, and events
March 01 - Huge new item update in the Gaia Shops!
March 05 - The Gift System has been updated
March 08 - New[Egyptian housing items are here!
March 15 - The March Collectibles are here!
March 16 - Happy St. Patrick's Day from Gaia Online!
March 20 - Gaia Mobile Downloads: Get Gaia stuff for your mobile phone!
March 27 - Big ol' GStore update!
March 28 - Check out the completely overhauled Item Arranger!
April 03 - New Egyptian items in Gaia's shops!
April 06 - Happy Easter from Gaia Online!
April 13 - Breaking News: Gaia Approaching ONE BILLION POSTS!
April 15 - The April 2007 Monthly Collectibles are here!
April 18 - Gaia Convention Tour: new info on Anime Expo!
April 23 - Gaia Cinemas: Watch movies in Gaia's new movie theaters!
April 24 - Home phone payments are back.
April 30 - Try on Monthly Collectibles in the Dressing Room and Museum!
May 01 - Gaia Paid Summer Internship Program
May 03 - Some changes to the username system - spaces now allowed!
May 07 - Check out the new Avatar Exporter & Sig Lab!
May 08 - An important note about password security
May 09 - Play our official Tsubasa quest and win a free item!
May 10 - Coming soon: The May Collectibles! Coming now: HINTS!
May 15 - The May 2007 Monthly Collectibles are here!
May 17 - New stuff in the Gaia Cinemas: Shaolin Temple + 2 shorts!
May 22 - Some changes to the site's navigation
May 23 - Gaia Convention Tour: First Stop, Fanime!
May 24 - A nice update to the journal system!
June 01 - New stuff in Gaia Cinemas: House on Haunted Hill, Fanime
June 05 - Gaia on Webware 100
June 06 - Profile System Maintenance Today
June 06 - Fixes and Changes to the Profile System
June 07 - Salon Mega-Update + Spotlight Recommendations
June 09 - 5th Annual Ball!~
June 14 - Contests! Shojo Beat's 'Beat Girl' Contest + Gaia Film Fest!
June 15 - The June 2007 Monthly Collectibles are here!
June 15 - Monthly Collectible Mishap
June 16 - Important -- New Staff Coloring!
June 18 - Hit the road with Gaia Cars, brought to you by Scion!
June 19 - Gaia is winner of Webware 100 award!
June 20 - Film Contest and Convention Tour Info
June 21 - Custom Gaia Merchandise from QOOP!
June 26 - Three new forums!
June 28 - New stuff in Gaia Cinemas: Gulliver's Travels + Shorts!
July 02 - Battle System: New forum and info page!
July 02 - Tattoos for your avatar!
July 05 - New in Gaia shops: the Swimwear Set!
July 10 - Batten down your brainhatches: it's HINTS!
July 15 - The July 2007 Monthly Collectibles are here!
July 16 - New storyline comic today!
July 17 - Meet the Gaia staff members
July 17 - Check out the new Gaia Store!
July 19 - New moderator and staff colors are launching today
July 20 - Gift Credits and Shops were to be temporarily disabled on 7/23
July 20 - The Gaia Film Festival - Watch the winning entries now!
July 23 - Gift Credits and Shops are down for maintenance.
July 23 - Introducing Gaia Cash
July 24 - Convention Tour info: Comic-Con and Kiki's Road Trip
July 27 - The Film Festival continues with Gaia's new animated teaser!
July 31 - The Film Festival continues with six hilarious animations!
July 31 - New info about Gaia's Battle System!
August 01 - Apply to become a Gaia moderator
August 02 - Verizon now supported for home phone payments
August 06 - A new look for Gaia!
August 09 - Gaia's new look has arrived!
August 13 - Scion: New Jigsaw, new item, and new stuff for Gaia Cars!
August 14 - Changes to game room names
August 14 - New information on Kiki's Road Trip!
August 15 - The August 2007 Monthly Collectibles are here!
August 20 - Coming soon: Gaia's Summer Festival!
August 21 - Beta testing the new Marketplace!
August 24 - Gaia's Summer Festival: Which team will you join?
August 25 - New marketplace and its listing fee
August 27 - The Gaia Summer Festival is here!
August 29 - Summer Festival News Update: 100k or Bust! Monday at 5PM!
August 31 - Summer Festival: New Storyline Manga!
September 04 - We beat 100k! Thank you!
September 05 - Summer Fest News: Event Prizes, Salon Update, Item Contest!
September 07 - Summer Festival News: MMVII, 100k Item and Marketplace 3.0!
September 11 - Notice: stuff may be glitchy as we tweak the forum code.
September 12 - We've Released our New Forum System
September 12 - Gaia forum look and feel - your input needed!
September 13 - September Monthly Collectibles: Hints!
September 14 - Got a great item idea? Enter our Item Design Contest!
September 15 - The September Monthly Collectibles are here!
September 18 - Forum Pulse - Stay on top of the hottest threads!
September 19 - Forum problems - we're on it!
September 21 - Forum posting bug fixed
September 25 - New in Gaia Cinemas: FUNimation's Kiddy Grade!
September 28 - Continue the story of Ian and Louie with a new Gaia manga!
October 01 - Forum bug fixing need your help!
October 04 - Problems with PMs
October 05 - Rite Aid Cards: Coming… soonish!
October 10 - Item Design Contest: Choose the Winner!
October 11 - Tons of new items in Gaia Shops!
October 11 - MMVII Part Two: The story continues with Flower of the Night
October 11 - Avatar saving temporarily down
October 12 - Vending license fees refunded
October 12 - Scare us senseless in the Halloween Costume Contest
October 12 - Gaia down due to flooding!
October 15 - The October Monthly Collectibles are here!
October 15 - Gaia Cash Cards at Target Stores!
October 16 - Buy Gaia Store items, get Gaia Gold!
October 18 - New items for your Gaia Car, plus cool Scion stuff!
October 25 - Gaia VJ: Take Control of Gaia Cinemas!
Ocotber 26 - TinyURL
October 29 - Gaia's Halloween Event is Here!
October 31 - Cash Shop Glitches
October 31 - Halloween News Bulletin: Costume Contest!
November 01 - Now in Gaia Cinemas: MMVII Part Three!
November 02 - Introducing the Gaia Cash Shop
November 05 - Get Halloween Wallpapers at our Event Downloads Section!
November 06 - Yow! Item Design Contest winner, plus a NEW contest!
November 07 - Gaia Halloween has come to an end...
November 08 - Introducing the official Gaia Battle Website!
November 09 - Update On The Gaia Battle Website
November 12 - MMVII: Download and Mutilate our Short Animations!
November 12 - Evolving Item Report: Fausto's Bottle is Changing
November 13 - Don't miss Kiki's Road Trip at Wizard World Texas!
November 14 - Wii The People: Win a Wii Every Day!
November 15 - The November Monthly Collectibles are here!
November 15 - Cash Shop bug has been fixed
November 21 - Gaia Alerts: Get notified of PMs by email or mobile phone!
November 21 - Cash Shop Update: New Items & Evolving Item Report!
November 21 - The Gaia Store: Buy stuff now, get a free gift! [Ended]
November 25 - Holiday Item Contest: Vote for Your Favorite!
November 26 - Cash Shop Update: More New Items & The Evolving Item Report
November 29 - Big Big Shop Update! Holiday Stuff & Gaia Garage Sale!
November 30 - Cash Shop Update: What's in the OMG Box!?
December 03 - Introducing the New Gaia Cinemas & New Movie Mondays!
December 04 - Limited Beta Test: The[Gaia Toolbar
December 04 - News Update! New Contest, New Merchandise, Kiki's Road Trip!
December 05 - MTV's Virtual Hollywood: Live the Hollywood Life!
December 06 - Evolving Item Report: Fausto's Bottle + a brand new item
December 10 - New Movie Monday: Strange Brew & Tarzan!
December 10 - The Gaia Toolbar is Now Available!
December 11 - News Update! 12 Days of Gaia, Holiday Item & Wii Winners!
December 13 - Introducing The OMG Widget!
December 13 - Evolving Item Report: Pora Ice and the Pantheracorax Agate
December 14 - Problem with account activation has been fixed
December 14 - News Update: The Want-O-Tron, New PJ Pants & December MCs!
December 15 - The December Monthly Collectibles are here!
December 17 - New Movie Monday: four new movies in Gaia Cinemas!
December 18 - News Update: Xmas Event, Gaia Gifts & Gaia on YouTube
December 19 - Cash Shop Update: New Winter Items & Evolving Item Report
December 20 - Gaia's Xmas Event is Here!
December 27 - Evolving Item Report: Pora Ice has completed its evolution
December 31 - Cash Shop Update: Holiday Items Leaving!
December 31 - New Movie Monday! Batman Returns & Wyatt Earp
Ad blocker interference detected!
Wikia is a free-to-use site that makes money from advertising. We have a modified experience for viewers using ad blockers

Wikia is not accessible if you've made further modifications. Remove the custom ad blocker rule(s) and the page will load as expected.